4 Hair Care Myths that Haunt Dermatologists
Debunking the propagated hair care by the internet & customs with the expertise of a Dermatologist
Myth 1 – Oil is required to nourish your hair and does miracles for it.
Your hair does not derive any nutrition from oil. Oil at best is a conditioning agent. In fact oil usage can block the pores on your scalp and give rise to acne and boils on your scalp.
The reality is that the health of your hair depends on factors like genetic predisposition, environment, stress, diet etc.
If you must use oil, I would recommend that you apply it only to your hair and not your scalp. Keep it for an hour or so and rinse it off. Never keep it overnight.
Myth 2 – Frequent shampooing can cause hair fall
This is a horrible myth. Frequent shampooing has nothing to do with hair loss. Shampoo is nothing more than soap with a PH value suitable for your hair.
What a shampoo does is just cleaning – the dust, oil, sweat etc. from your hair and scalp. 
In fact if you reduce the frequency of shampooing, this sweat and grime will accumulate on your scalp and give rise to infections.
I recommend that one should wash their hair between 2 and 3 times a week based on how dirty it gets. Also, if you work out daily or are involved in activities that cause more sweating, you may need to shampoo your hair more often.
Till next time, keep your hair and thoughts clean and healthy.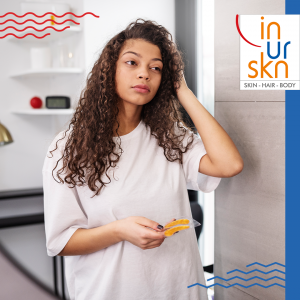 Myth 3 – Natural products are the safest and most effective way to reduce/stop hair loss.
The truth is ingredients like onion seed oil, eggs, plant based proteins, coconut and so on do not work and are probably more useful for cooking than for stopping hair loss.
I strongly urge my patients to never use these ingredients on their hair, as it can lead to bacterial infections.
Also one should be very careful of using products which claim to be made out of extracts of natural ingredients. These are generally poorly tested and have practically no efficacy of data available.
The only "natural" products that work are the ones that have a tiny proportion of natural extracts alongside medical components. In this case the medical ingredients deliver the desired results while the natural ingredients are used as a part of a marketing ploy.
The only sound advice I can leave you with is to go see a dermatologist who will prescribe oral and topical medications to begin with and if those don't work then advise medical procedures that can truly yield safe and lasting results.
Myth 4 – The latest hair fall solutions can be found online and over the counter.
Unfortunately, the laxity in regulation of medical products is often misused by some companies to offer over the counter solutions to counter hair loss.
These new age "elixirs" are mostly the same old wine in new bottles with amazing marketing and branding at work for them.
And sometimes these can be, what I call "bhel-puri" products, which combine a little of every type of medication for hair loss.
Please stay clear of all of these products and choose to consult a dermatologist who will know what exactly will work for you and what will not.
Till next time, stay comfortable and happy in your skin.
Finally, please remember that knowledge is power. In this case it can be the power to deeply understand your skin and hair, and how it reacts to the products and environment around you.
How can Dr. Sejal and InUrSkn help?
There's a lot of misinformation about hair care in this digital age. The home remedies, friendly advice and the internet has gone a little too far. Dr. Sejal ensures every single patient is aware enough to filter between the misleading information and the factual ones backed by science and research. Hair Rejuvenation treatments like Mesotherapy, Meso Iontophoresis and Injectables have proven to be effective with thousands of our patients. They are thoroughly customized and recommended only after consultations and diagnosis. We've ensured our treatments are performed under safest conditions and best of the equipment for efficacy. Dr. Sejal is always available at her state of the art clinic InUrSkn which specializes in the domains of dermatology, cosmetology, venereology, intimate cosmetology, trichology and body aesthetics.
Disclaimer:
The objective of this article is to educate the reader and help them make wiser choices under the guidance of a trained dermatologist. It is not meant to be used by patients for self-diagnosis or for avoiding proper medical treatment. The images used in the above blog are only for visual representation purposes. Actual procedures and results may vary from patient to patient.
About Dr. Sejal Saheta and InUrSkn:
Built on more than a decade of experience of Dr. Sejal Saheta, we are an honest and affordable skin and hair care clinic in Powai, Mumbai. Our goal is to make each patient comfortable and happy with their appearance with the least amount of intervention.
Dr. Sejal Saheta has dual degrees of MD and DNB in dermatology and venereology and has worked alongside some of the senior-most doctors at the largest hospitals in Mumbai.
Located in Powai, InUrSkn is the largest skin and hair clinic in the central suburbs of Mumbai and offers the latest technology in the safety of world-class infrastructure.
We are happy to be a part of your journey to reach your health goals. If you think we have been able to help you, please do review us:
On Practo: http://prac.to/vkpj
On Google: https://goo.gl/zHfACo
How can Dr. Sejal and InUrSkn help?
No matter what your skin and hair needs, Dr Sejal Saheta ensures personal attention to each patient and creates customized and scientifically-backed treatment plans for each patient. Through her years of experience and use of technology at her clinic (InUrSkn – Skin and Hair Clinic) located in Powai, Mumbai, she has been able to consistently deliver great results in the field of dermatology and trichology to thousands of patients. All of the above is done with the best-in-class machines within the comfort and safety of world-class infrastructure.