Ace your skin and hair care game during your period.
Protect your skin and hair from the hormonal upheaval caused by menstruation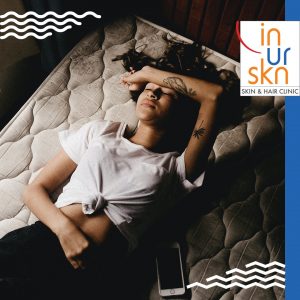 The extent to which hormones can wreak havoc on our physiology is almost unbelievable. During our menstrual period, our hormonal balance goes for a toss and the effects are best described as chaotic.
The levels and balance between the three main hormones namely estrogen (oestrogen), progesterone and testosterone keep changing through our cycle. These hormones are responsible for causing a huge number of physical and mental changes in our body ranging from mood swings to bloating to body aches etc.
Your skin and hair of course are no different and undergo chaotic changes too.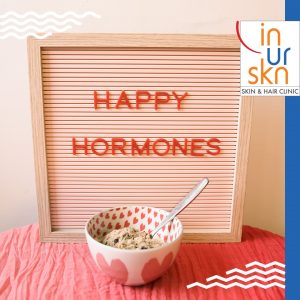 The role of hormones in the physiology of our skin and hair.
– Estrogen levels are associated with the thickness of your skin and dermal water retention levels. This basically determines functions like how well your skin heals or even how well it acts like a barrier against the external environment. Estrogen levels also influence the oil production in your skin.
– Progesterone levels on the other hand can affect the way your skin ages.
– Testosterone also affects the sebum (oil) production in your skin and plays a major role in hair growth and hair loss.
What does this all mean to me?
The balance between these hormones starts getting disturbed a few days before your period and can lead to a host of skin and hair issues. Here are some of the common ones to look out for and also what can be done about them:
Acne:
Blackheads, whiteheads, pimples, all seem to flare up just before the start of your period. This is largely due to the increased sebum production which leads to blocking of pores and hence bacterial proliferation. The bacterial spread in turn leads to acne breakouts. Oral and topical medications are prescribed by dermatologists to control both the symptom (the bacterial growth) and also the cause (excess sebum production). If acne breakouts are recurrent during your menstrual cycle, your skin doctor can help you establish a routine around the same time which will help you prevent acne breakouts.
Here are some articles that can help you:
You can also read more about acne care here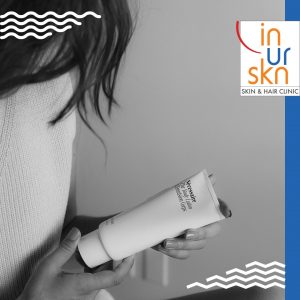 Bacterial and Fungal Infections
These infections are very common on inner side of thighs and pubic area due to use of sanitary napkins, tampons etc. Sweating becomes a catalyst for these infections to grow further.
Here too, good hygiene practices like regular change of sanitary napkins and frequent cleansing of the area with luke warm water helps keep the infections away. Also a skin specialist can advise you on the exact oral and topical medications that can help with the specific infection. If this is a recurrent feature during menstruation, then you can ask your dermatologist for a medication that can be used prophylactically (in advance).
For online skin consultation with Dr Sejal, you can use The Personal Touch – our online application.

Dry Skin
Lower estrogen levels can also decrease collagen, elastin and hyaluronic acid levels in your skin, thus leading to dry and dull skin. Avoid use of powders or any kind of antiseptic wash. These tend to dry the skin further. Select the right moisturizer based on your skin type and moisturize frequently. 
A very mild procedure called ionization can be used to infuse hydrating serums into the deeper layers of your skin.
For more severe cases, injectable treatments like hyaluronic acid injections hold very good promise and lead to very good results.

Pigmentation:
For women who have conditions like melasma and dark circles
this can be a particularly bad time as during this time these pigmented areas can get darker still. While a permanent correction can be brought about only by hormonal correction, there are topical applications and procedures that can help reduce pigmentation.
Your dermatologist may prescribe some creams and oral medications that will help you with overall skin pigmentation and health and also some targeted procedures like chemical peels and laser skin toning. Understand skin pigmentation better and how to treat it 
Contact Dermatitis:
Due to constant contact with and irritation due to sanitary napkins, tampons etc. skin tends to become itchy and red leading to small boils and patches. Good hygiene practices along with symptomatic treatment by your doctor can go a long way to help you with this. 
Herpes or other dormant infections. 
During menstruation immunity is on the lower side. Hence this can activate pre- existing Herpes infection or other infections in the body.  Hence it is important to pay specific attention to your health in terms of ensuring high immunity. Lifestyle choices play a big role in keeping your immunity high. Ensure good nutrition, sleep and exercise habits along with staying away from smoking, alcohol etc.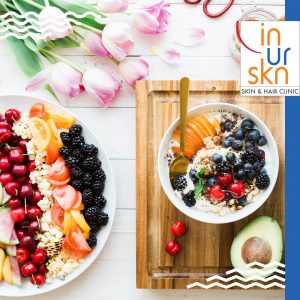 In case of any infections like herpes, there are medications that can be prescribed by the doctor.
Psoriasis, Atopic Eczema or any other chronic skin condition
Certain pre-existing chronic skin conditions like eczema, psoriasis etc. tend to flare up due to high progesterone levels during menstruation. Staying the path in terms of medications and topical applications is the correct choice. There are some procedures like excimer lasers etc. which are also available to help with psoriasis etc.
Hair Loss and Hair Breakage
Change in hormones can also cause heavy hair breakage and hair loss.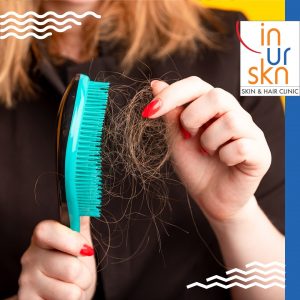 This condition is best treated by oral and topical medications. In addition to this procedures like PRP (Platelet Rich Plasma) therapy or Meso Therapy can help in reducing hair loss and stimulating hair growth. In the end remember that while your menstrual cycle is an inevitable part of your physiology, to live with the unpleasant effects of the same is not inevitable. Please do seek out medical help in time and choose to live a normal life even during 'that' time of the month.
Disclaimer:
The objective of this article is to educate the reader and help them undertake appropriate skin and hair care during menstruation under the guidance of a trained dermatologist. It is
not meant to be used by patients for self-diagnosis or for avoiding proper medical treatment. The images used in the above blog are only for visual representation purposes.
Actual procedure and results may vary from patient to patient.
About Dr. Sejal Saheta and InUrSkn:
Built on more than a decade of experience of Dr. Sejal Saheta, we are an honest and affordable skin and hair care clinic in Powai, Mumbai. Our goal is to make each patient comfortable and happy with their appearance with the least amount of intervention.
Dr. Sejal Saheta has dual degrees of MD and DNB in dermatology and venereology and has worked alongside some of the senior most doctors at the largest hospitals in Mumbai.Located in Powai, InUrSkn is the largest skin and hair clinic in central suburbs of Mumbai and offers the latest technology in the safety of world class infrastructure.
We are happy to be a part of your journey to reach your health goals. If you think we have been able to help you, please do review us:
On Practo: http://prac.to/vkpj
On Google: https://goo.gl/zHfACo

How Dr. Sejal and InUrSkn can help?
No matter what the skin or hair ailment, Dr Sejal Saheta ensures personal attention to each patient and creates customised and scientifically-backed treatment plan for each patient. Right form basic issues like hair loss or skin pigmentation to more problems like skin and scalp infections Dr. Sejal is able to bring value to her patients through years of her experience. In case any patients requires more advanced treatments like chemical peels or laser skin rejuvenation or PRP treatments, InUrSkn offers state of the art equipment in large world class treatment rooms. Even aesthetic treatments like laser hair removal are carried out by CIDESCO certified aestheticians under strict supervision of Dr. Sejal only. Dr. Sejal has special interest in the domain of chronic skin ailments like eczema, psoriasis and vitiligo and has been working alongside hundreds of patients to keep these conditions in check and improve their quality of life.
A number of patients can testify to this with proven results