Be Clear About Acne Treatments.
While it is true that prevention is better than cure, what should one do when they are unable to prevent acne? Well, thanks to our increased understanding of what causes acne and the advances in medical sciences, there are quite a few lines of treatment that are now available, which help get rid of acne.
Why Treat Acne?
One question I am asked very often is, "Why treat acne if it is going to recur anyway?" The fact is that acne will occur as long as hormones are active. However, if left untreated, the acne will leave behind marks and scars that are more difficult to treat.
Patients often harbour the notion that when the use of acne medication is stopped, it leads to eventual increase in acne. This is absolutely untrue. Acne medications and treatments are targeted and scientifically proven to help with acne.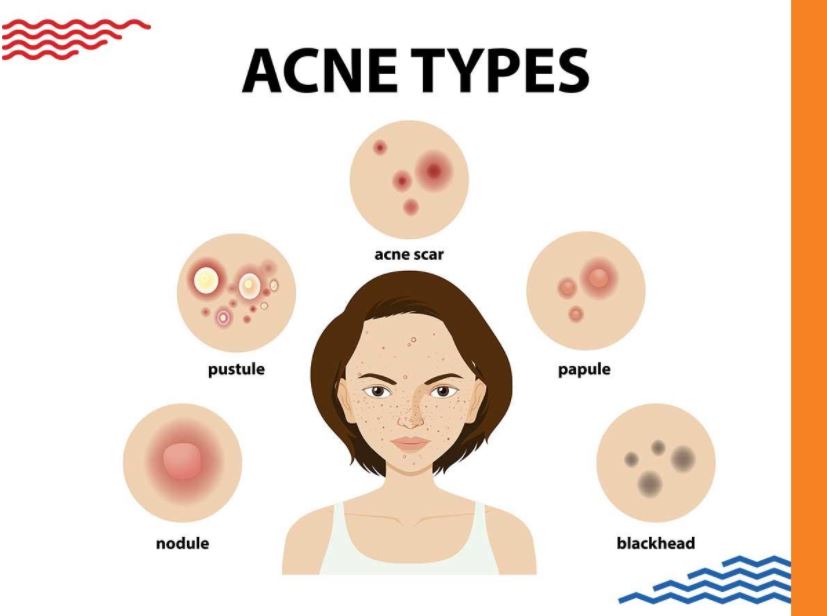 What are the Types of Acne?
As always, before starting with what helps, let's understand the basics of acne. Acne is largely hormonal in nature. The changes in hormones cause an increase in the production of sebum, which in turn blocks skin pores. This leads to bacterial overgrowth and eventually, to acne.
One of the most important basics about acne is that the line of treatment changes with the type of acne. Yes! Acne has types too. Here's a quick breakdown of the same:
1. Acne may start off as whiteheads or blackheads due to clogged skin pores.
2. Acne may evolve into red bumps and boils due to inflammation.
3. As bacterial growth increases, sometimes there is development of pus.
4. Lastly, sometimes cysts are formed due to deep tissue involvement.
Also, it is important to note that the most detrimental step an acne patient can take is self-medication, or worse, home remedies that further complicate the problem. I request you to treat this article as a guide and not as an inspiration to self-medicate or try home remedies. Further, avoid using over-the-counter drugs for acne, as they are often too broad spectrum to work.
What Treatments Work for Acne?
In my personal opinion, it is always better to start with a conservative line of treatment and observe how the patient responds to the treatment.
1. Acne treatments should always begin with the usage of topical creams. This, of course, is applicable to mild forms of acne like blackheads and whiteheads. These creams generally carry out two actions – they reduce sebum production and also ensure that there is no bacterial inflammation.
2. Oral medications also serve the same two objectives, that is, they reduce oil production and at the same time, prevent possible infections.
3. Extraction of whiteheads and blackheads helps too. A good, medical facial clean-up can often prevent acne form progressing further. If you are prone to formation of whiteheads and blackheads, I recommend you to get a medical face clean-up done once a month to once in three months, based on what your skin needs.
4. Vitamin A derivatives are often used to help reduce sebum production.
5.In case of severe acne, I recommend chemical peels. Chemical peels greatly vary in their composition and purpose and should be administered only under the supervision of a dermatologist. They can be superficial or deep acting. The choice of peel depends on the degree of acne. These peels not only help to reduce active acne, but also substantially help reduce any marks, blemishes and scars that may be left behind by acne.
You can read in detail about chemical peels in a blog post that a wrote a while ago here

How to Eliminate Acne Marks, Blemishes and Scars?
While I recommend that treatment for such blemishes start with topical creams that help lighten the marks, often there is a need to progress to procedures like chemical peels.
For getting rid of marks and minor blemishes, I recommend that patients undergo a combination of chemical peels and laser skin toning using a Q-switched ND-YAG laser. This laser is uniquely suitable to target the melanin in the skin and helps reduce marks and blemishes substantially. You can read more about Laser Skin Rejuvenation here.
As for deeper acne marks and scars, I recommend microneedling. It is an extremely safe and proven procedure that is known to give wonderful results. I prefer enhancing microneedling with PRP. This helps to heal acne scars quite rapidly and is an excellent solution for scars.
I hope the above gives you a basic idea about the treatments for acne and acne-related skin concerns. The bottom line is that for acne, the old adage that a stitch in time saves nine is absolutely true. If you have acne, I recommend you to seek early medical intervention.
The Personal Touch
Our Online Doctorcare service, The Personal Touch, allows you to meet with Dr. Sejal, a skin specialist in Mumbai (MD, DNB – Dermatology and Venereology), for any of your skin and hair related problems, from the comfort of your home. It's extremely easy, it's totally safe, and it gives you the kind of personalised attention InUrSkn is known and loved for.
Whether it's a detailed phone call supported with pictures or a video call, Dr. Sejal will bring her personal approach to each consultation, to ensure that your problem gets resolved in the best manner possible.
Set up a skin or hair consultation easily and conveniently, by clicking here or calling us on 9819286930 / 9326028277
About INURSKN:
Built on Dr. Sejal Saheta's experience of over a decade, we are the honest and affordable skin and hair care clinic you need and deserve. We are known as providers of top-of-the-line acne treatment in Mumbai, among others. Our goal is to make each patient comfortable and happy with their appearance, with the least amount of intervention.
Our qualified and trained doctors, equipped with the latest technology, conduct and supervise all procedures in strict adherence to protocols developed by Dr. Sejal.
We are happy to be a part of your journey to reach your health goals. If you think we have been able to help you, please do leave a review on:
Practo: http://prac.to/vkpj
Google: https://goo.gl/zHfACo
Disclaimer:
This article is one in a series of articles on skin conditions by Dr. Sejal Saheta – MD, DNB – Dermatology and Venereology. The objective of this series is to educate the reader and help them take precautions against various skin conditions they face on a regular basis. These articles are not meant to be used by patients for self-diagnosis or as a replacement for professional medical treatment. The images in the above article have been utilised for the purpose of visual representation and are indicative in nature. Actual treatment results may vary from patient to patient.