Covid-19 and Hair Loss
Some Facts and Tips on how to manage Hair Loss post Covid-19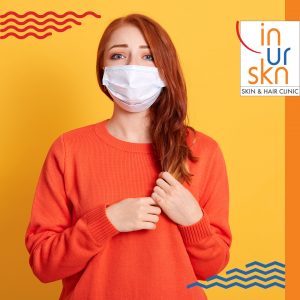 Covid-19 has become an unfortunate reality of our existence and one that we all may have to face at some time or the other. While 'living with the virus may have become a necessity it is absolutely not necessary for it to let it have its toll on our bodies.
SARS-CoV-2 during its active phase in our body creates havoc in our body affecting nearly all major functions of our body but even after it has left the body we have seen long-lasting effects on our body. One such effect that is visible post-covid-19 is excessive hair loss.
A very high number of people have approached me to post covid infection complaining about hair loss. Here are some things to help you understand why such hair loss occurs and what you can do about the same:
Basics of Hair Loss
Our hair constantly undergoes its lifecycle from growing to resting, to falling phase. Hence it is common for most people to experience hair fall in the range of 80 to 100 hair strands a day. It is when this balance between the phases of hair growth and falling is disturbed that a person can experience hair fall in excess of these numbers and it qualifies to be called hair loss.
It is also important to note that it is not uncommon to experience hair loss post any form of infection or surgery. This happens because the body undergoes a lot of stress and inflammation during either of these processes and more hair is forced into the shedding/falling phase than normal.
Understand Hair Loss in detail in my blog post here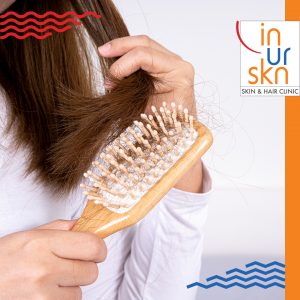 What are typical visible aspects of hair loss post-covid-19?
Typically hair shedding starts about 1-2 months post covid. One can experience a hair loss of 300 to 400 strands a day.
In a lot of cases, the hair shedding does stop 2 to 3 months after it starts. However, I have observed cases where it has continued much beyond this time too. Uncontrolled hair fall can lead to volume loss and thus substantial hair thinning.
In addition to the physiological aspects of covid and hair loss, there is also a psychological factor involved. Looking at clumps of hair every day puts one under stress. Stress further increases hair shedding.
Is it a temporary condition? Should I be worried?
Covid-19 takes a substantial toll on the body. The deficiencies caused by a compromised nutritional intake, sudden changes in weight, hormonal disturbances, and reduced vitamin D and B12 levels are some of the major reasons for the large volumes of hair loss post-Covid-19.
Our body has an innate ability to return back to equilibrium, however, the substantial toll on the body means that it takes a very long time to return back to its normal state. There have been cases of long covid which have been seen to last more than a year and that is a long time to ignore hair loss.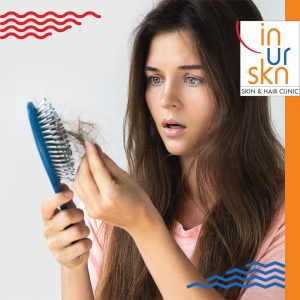 How do I manage this hair loss?
My sincere recommendation is to ensure that you see a dermatologist who can help you with oral and topical medications to cater to hair loss and not wait for your body to recover on its own.
Also, a dermatologist may order certain investigations like blood tests and imaging to rule out any other possible causes of hair loss.
Read in detail about types of hair loss and methods to control the same here
Some other things I can recommend are as follows:
Make sure you have a protein-rich diet.
De-stress. No matter how you do it.. from doing yoga to exercising to watching movies.. whatever works for you.
Goes without saying, do not add undue stress to your hair by applying either homemade preparations or hair color, etc.
Read this blog on how to control hair loss in these stressful times for many more tips
I have also recommended some of my patients undergo PRP therapy to further control hair loss and it has shown very promising results. Do ask your dermatologist if you are a candidate for the same.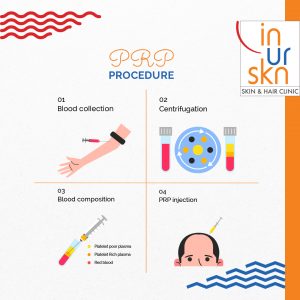 Lastly, it is important to remember that the worst phase of covid-19 is over and hair loss is a cosmetic condition which too can be controlled. It is more important that you not stress about it but just tend to the problem at hand.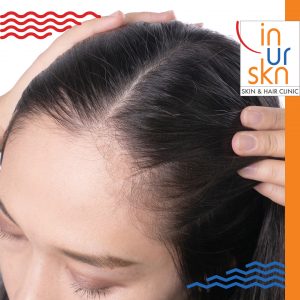 Disclaimer:
The objective of this article is to educate the reader and help them make wiser choices under the guidance of a trained dermatologist. It is not meant to be used by patients for self-diagnosis or for avoiding proper medical treatment. The images used in the above blog are only for visual representation purposes. Actual procedures and results may vary from patient to patient.
About Dr. Sejal Saheta and InUrSkn:
Built on more than a decade of experience of Dr. Sejal Saheta, we are an honest and affordable skin and hair care clinic in Powai, Mumbai. Our goal is to make each patient comfortable and happy with their appearance with the least amount of intervention.
Dr. Sejal Saheta has dual degrees of MD and DNB in dermatology and venereology and has worked alongside some of the senior-most doctors at the largest hospitals in Mumbai.
Located in Powai, InUrSkn is the largest skin and hair clinic in the central suburbs of Mumbai and offers the latest technology in the safety of world-class infrastructure.
We are happy to be a part of your journey to reach your health goals. If you think we have been able to help you, please do review us:
On Practo: http://prac.to/vkpj
On Google: https://goo.gl/zHfACo
How can Dr. Sejal and InUrSkn help?
No matter what your skin and hair needs, Dr Sejal Saheta ensures personal attention to each patient and creates customized and scientifically-backed treatment plans for each patient. Through her years of experience and use of technology at her clinic (InUrSkn – Skin and Hair Clinic) located in Powai, Mumbai, she has been able to consistently deliver great results in the field of dermatology and trichology to thousands of patients.
Also, InUrSkn offers some of the most advanced hair rejuvenation and regrowth treatments like:
PRP Therapy
Meso Therapy
Meso Ionization
All of the above is done with the best-in-class machines within the comfort and safety of world-class infrastructure.