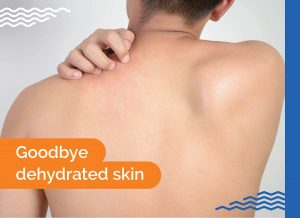 While they are misconstrued to be the same, dry and dehydrated skin are two completely different things. And so, it's vital to know whether your skin is just dry, or if it's dehydrated.
What's the difference?
Dry skin typically refers to the skin feeling dry because of the weather, or a lack of moisture caused by certain products or treatments. Dehydrated skin on the other hand, is a condition which usually points to internal dehydration. So, how do you tell if your skin is dehydrated?
Dry and parched looking skin
Brittle and lustreless appearance of the skin
Visible rough patches and flakiness
Premature lines and wrinkles on the skin, which look more pronounced on dry skin
Taut, stretched and itchy skin
However, there's no reason to worry. Even if your skin is dehydrated, proper love and care will help make these symptoms disappear, leaving your skin looking and feeling its best.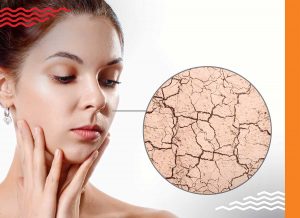 How to care for dehydrated skin
If you have dehydrated skin, the most important thing to remember is to be gentle with it while treating it. Here are some tips you can follow to keep your skin healthy, hydrated and gorgeous:
When it comes to skincare, gentle's the word. Whether it's products or the kind of equipment you use, remember that you need everything to be gentle and mild. Avoid products with ingredients such as retinol and Vitamin C, as they tend to dehydrate the skin. So, if you have recently switched to products that have those ingredients, try decreasing the frequency of their use.
Make sure you use a hydrating moisturiser at least twice a day. This will help restore your skin's smoothness and glow.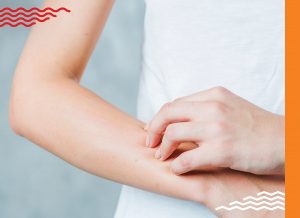 While exfoliation seems like an inevitable part of the skincare routine, using rough exfoliating brushes or scrubs actually does more damage than good. They strip the skin of its natural moisture, drying it out further. Combine that with already dehydrated and dry skin, and the results will be disastrous.
Hot water is your skin's worst enemy. It tends to dry out the skin more than necessary. Instead, use lukewarm water, especially while washing your face.
Dehydrated skin is more prone to damage from the sun. So, make sure you never leave home without sunscreen and try to protect your skin from direct exposure to the sun as much as possible.
Avoid spa and salon trips
Avoid getting intense treatments at spas and salons, especially those which use products which are more likely to cause skin damage. In case you need to get any treatments, visit your dermatologist.
Keep a check on your diet:
Avoid coffee and alcohol as both can dry out the skin
Ensure your diet is rich in whole foods.
Drink sufficient amounts of water. Staying hydrated internally is key for beautiful and healthy skin
So, whether your skin is dehydrated or just dry, all it needs is a little bit of TLC to be at its gorgeous and smooth best.
*Please consult your dermatologist in case your skin continues to be rough, flaky and dry.  
About INURSKN:
Built on more than a decade of experience of Dr. Sejal Saheta, we are the honest and affordable, skin and hair care clinic. Our goal is to make each patient comfortable and happy with their appearance with the least amount of intervention.
Equipped with the latest technology, here qualified and trained doctors conduct and supervise all procedures in strict adherence to protocols developed by Dr. Saheta.
We are happy to be a part of your journey to reach your health goals. If you think we have been able to help you, please do review us:
On Practo: http://prac.to/vkpj
On Google: https://goo.gl/zHfACo
Disclaimer:
This article is one in a series of articles on skin conditions by Dr. Sejal Saheta – MD, DNB – Dermatology and Venereology. The objective of this series is to educate the reader and help them take precautions against various skin conditions they come across on an everyday basis. These articles are not meant to be used by patients for self-diagnosis or for avoiding proper medical treatment. The images used in the above blogs are just for the visual representation of the treatment results may vary from patient to patient.