Summer is coming! No actually, summer is already here and with it comes the sun. While a warm and sunny weather can be uplifting for your mood, the same cannot be said for your skin. Your skin needs protection from the sun. And how do you plan to do that?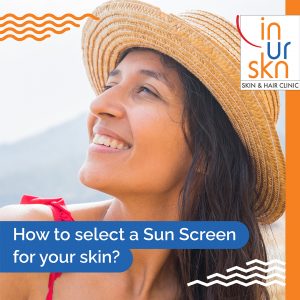 We use sunscreen, of course. The application of Sunscreen is crucial for skin health because it helps prevent sunburns, premature skin aging, and skin cancer. The primary use of sunscreens is to protect the skin from the short-term and long-term effects of ultraviolet (UV) radiation. The active components of UV radiation are UVA (responsible for tanning, premature ageing, and allergic reactions) and UVB (responsible for sunburn, cancer). The common skin ailments where the use of a sunscreen is a "must" for prevention are Sunburn, Tanning, Freckles, Photo-aging, Skin cancer, certain photosensitive skin ailments, and post-procedure pigmentation.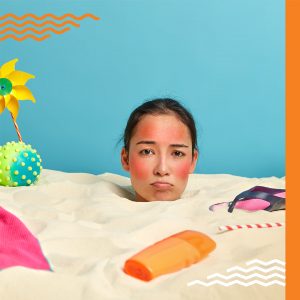 Thus, applying sunscreen should always be part of your regular day – whether you are going out swimming or for the daily commute to work. But which sunscreen should you use? How to select a Sun Screen for your skin? Let's find out the answers to these questions.
SPF – sunburn protection factor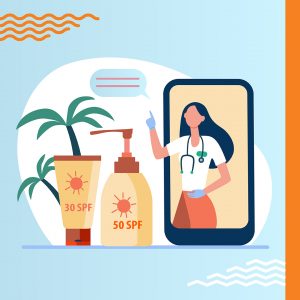 SPF is the measurement of a sunscreen's capacity to filter out UVB. A sunscreen with an SPF of 15 blocks about 93% of UVB radiation, while one with an SPF of 30 blocks about 97% of UVB radiation. SPF of 50% blocks about 98% of UVB radiation.
Ideally, a sunscreen of SPF 30 is sufficient for your skin protection. Make sure to check the SPF before choosing your sunscreen.
If your sunscreen isn't working for you, please consult a dermatologist as soon as possible.
Broad spectrum sunscreen
There are many different kinds of Sunscreens available in the market. The broad spectrum sunscreens are the ones that protect your skin against both UVB and UVA.
People often end up choosing sunscreens that offer protection only against UVB because they're only thinking about sunburn and cancer. But, they should always choose broad spectrum sunscreen because UVA rays are present throughout the year at about the same intensity as UVB. UVA rays can not only cause tanning, premature ageing, and allergic reactions but also contribute to skin cancer.
Water resistant sunscreen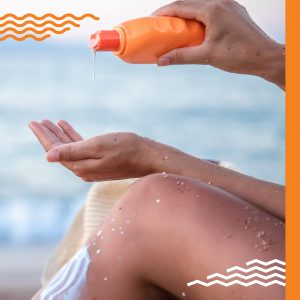 This means that sunscreen can last on wet or sweaty skin for at least 40-80 minutes before you need to reapply. Water resistant sunscreen is a great choice not only if you are going out on a beach but also for daily use because our skin tend to sweat off the sunscreen throughout the day, especially when it's humid.
According to skin type
It is important to select the relevant type and ingredients of your Sunscreen based on the type of your skin.
For Sensitive skin, physical sunscreens containing zinc oxide are recommended. Sunscreens should be hypoallergenic. It is because chemical sunscreens absorb completely into the skin.
For acne prone oily skin, it's very important that sunscreen reads non-comedogenic.
For dry skin, use a sunscreen with a moisturizer content included in it.
Sunscreens – creams, gel, sprays, and lotions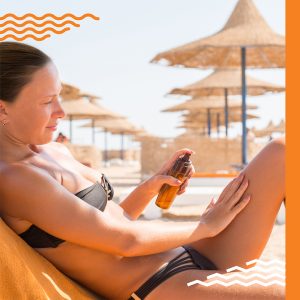 Which form of Sunscreen should you choose? Well, that depends on your area of application. While the lotions and sprays are good for larger body areas, the creams and gels are better suited for face.
Pro Tip: Use a lip balm with inbuilt sunscreen in it.
Now that we know how to choose our sunscreen, let us also quickly go through the method of using it.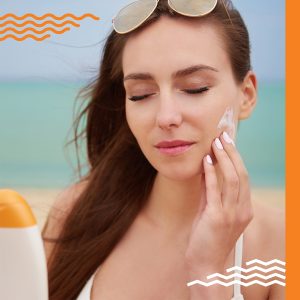 Sunscreen should be applied 20 minutes prior to stepping out of the house. If you are out in the sun for longer hours, make sure to reapply the sunscreen every 2-3 hours. One ounce of sunscreen (30 ml or 6 teaspoons) is required for all the exposed areas of the body. Sunscreen should be applied immediately after coming back from swimming or after excessive sweating because the water/sweat washes off the previously applied cream. Sunscreen should be applied on bald scalp and below the make-up too.
For kids, physical sunscreens containing zinc oxide are considered safe.
When does a sunscreen not work?
The sunscreens do not function accurately when – it is not applied in required quantity or it is not applied to every exposed area of the body or it is not reapplied every couple of hours and after heavy sweating/swimming.
Will it not lead to vitamin D deficiency?
Being physically active outdoors helps you make more vitamin D than resting in the sun. Sunscreens should be applied throughout the year irrespective of the season. Sunscreens should always be used in conjunction with other sun protection like sunglasses, cap, avoiding direct exposure to sun at its peak, and so on.
The bottom line is that, if you choose a good quality sunscreen and apply it as per the methods and tips mentioned in this article, your skin will stay well-protected from the harmful effects of UV rays.
About INURSKN:
Built on more than a decade of experience of Dr. Sejal Saheta, we are an honest and affordable skin and hair care clinic in Mumbai. Our goal is to make each patient comfortable and happy with their appearance with the least amount of intervention.
Our qualified and trained doctors, equipped with the latest technology, conduct and supervise all procedures in strict adherence to protocols developed by Dr. Sejal.
We are happy to be a part of your journey to reach your health goals. If you think we have been able to help you, please do review us:
On Practo: http://prac.to/vkpj
On Google: https://goo.gl/zHfACo
Disclaimer:
This article is one in a series of articles on skin conditions by Dr. Sejal Saheta – MD, DNB -Dermatology and Venereology. The objective of this series is to educate the reader and help them take precautions against various skin conditions they come across on an everyday basis. These articles are not meant to be used by patients for self-diagnosis or for avoiding proper medical treatment. The images used in the above blog are only for visual representation purposes. Actual results may vary from patient to patient.