So a while ago I wrote a blog post on the myths around Laser Hair Removal (In case you missed it, you can read it here : https://www.inurskn.in/myths-truths-laser-hair-removal/) also I had promised then that I would write in more detail about the various options one can look out for before going in for a procedure. So here it goes:
What are the types of Laser Hair Removal (LHR) machines that are available for treatment?
Yes you read that right. There are different types of machines available when it comes to Laser Hair Removal. The two dominant technologies available for LHR are Diode Lasers and Intense Pulsed Light Systems. Although various dermatologists and clinics have their own preference in my opinion both have good efficacy and sometimes even a combination of treatment with both is a good option. Diode Lasers have smaller heads and hence it takes more time for an aesthetician to complete the procedure. But the smaller head size coupled with the fact that diode lasers are inherently lower energy discharge devices makes them a lot safer with practically zero chances of burns. IPL (which is technically not a laser) is faster as the hand piece of the machine which comes in contact with the skin is larger but needs a more skilled aesthetician to handle the machine. With proper care and under the correct Doctor's supervision these are just as safe and efficient.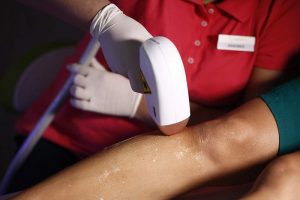 What the heck is ice cooled, ultra cool, super cool, painless etc. when it comes to LHR?
The chain clinics (which I am personally not a big fan off) tend to advertise this feature of the machine as a unique thing. In reality every decent laser hair removal machine will have this as standard. The part of the hand piece that is in contact with your skin should always be and is generally always cooled. This ensures that there are no accidental burns. Do check for this feature as a must before getting a procedure done. But I sincerely believe that most clinics will have machines equipped with cooling.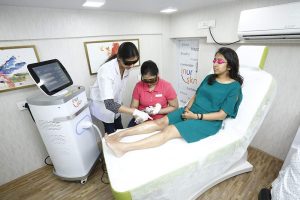 The biggest question you need to ask before signing up for a procedure: Are there dermatologists to supervise the procedure?
Unfortunately most chain clinics do not have adequately experienced doctors to monitor the treatment. It is important that a qualified dermatologist ensures that the settings for the procedure are proper at beginning and the patient is comfortable through the procedure. This also matters the most in the odd chance that there is a burn or a reaction of any nature. Immediate attention from a dermatologist can often mean the difference between a mild mark that fades away or a serious burn injury that lasts a life time. But more importantly the presence of a doctor you trust ensures that the procedure is conducted within protocols that the doctor ascribes to.
Don't fall for how powerful the Laser is… cause it does not matter.
A lot of clinics wrongly advertise the power of the machine as an indicator of how effective the laser is. This is absolutely untrue. The first thing is that the intensity of the laser is determined by the laser head and not the main power source of the machine. Also remember the human skin can actually never take the full intensity of the laser and generally only about 25% of the output intensity is used in treatment.
Hygiene Matters and Cutting Corners can be Harmful.
This is one aspect that is often understated and ignored by some clinics. But there are some tell-tale signs of weather the clinic cares enough for these. Examples I can state are:
There should always be disposable sheets and consumables used.
Gloves should be a must.
But most of all, the aesthetician should always ensure that there is a generous amount of cooling gel on your skin during the treatment.
I hope these are some pointers that will help you evaluate the right type of Clinic for getting your Laser Hair Removal done. Also as always, if you have queries on the subject feel free to write to me on the same.
About INURSKN:
Built on more than a decade of experience of Dr. Sejal Saheta, we are the honest and affordable, skin and hair care clinic. Our goal is to make each patient comfortable and happy with their appearance with the least amount of intervention.
Equipped with the latest technology, here qualified and trained doctors conduct and supervise all procedures in strict adherence to protocols developed by Dr. Saheta.
We are happy to be a part of your journey to reach your health goals. If you think we have been able to help you, please do review us:
Disclaimer:
This article is one in a series of articles on skin conditions by Dr. Sejal Saheta – MD, DNB – Dermatology and Venereology. The objective of this series is to educate the reader and help them take precautions against various skin conditions they come across on an everyday basis. These articles are not meant to be used by patients for self-diagnosis or for avoiding proper medical treatment.