Myths & Truths of Permanent Laser Hair Reduction
by
Dr. Sejal Saheta – MD, DNB – Dermatology & Venereology
So you have read of Permanent Laser Hair Reduction and have considered it, but never found the courage to take the step. For all of you, I sincerely hope this works as a guide and helps you get to ease and get to it.
I personally believe in the merits of permanent laser hair reduction and highly recommend the same, however before engaging in any procedure it is always recommended to speak to a medical practitioner and in this case a dermatologist.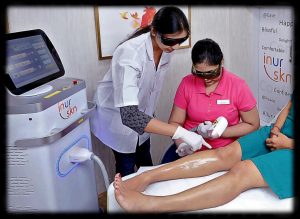 So, what is Laser Hair Reduction / Removal? (yes.. both are the same) and What can I expect with this procedure?
Laser is high intensity light of a particular wavelength in the infrared spectrum (invisible light). The wavelength of a Hair Removal Laser is such that it affects the melanin in the hair follicle, thereby destroying the hair follicle.
After consultation and through assessment of skin and hair type the doctor will recommend a treatment plan. In cases of excessive hair growth the treating doctor may also recommend a blood test or sonography if required before start of treatment. This is to rule out any underlying causes for such excess growth.
The procedure starts with the treatment area being cleaned and shaved. After which a cooling, soothing gel is applied on the area to be treated and using a laser probe the aesthetician under supervision of a doctor starts treating the affected area. The intensity and speed of treatment is varied by the doctor based on patient comfort and results observed.
But I don't want to be a guinea pig!
First things First: Please do not think of laser as you would in science fiction movies… neon coloured lights destroying spaceships… The Lasers we are talking about are low intensity lasers suitable for the human body and have been in use for more than 20 years now on a large commercial basis. Millions of people go through this process each year and this number keeps increasing every year.
With that out of the way, I am sure there are some doubts. I hope reading through will help you clear these once and for all.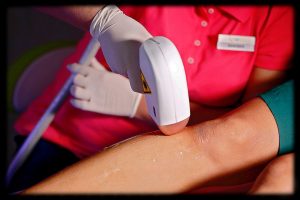 Will Laser will harm my skin.. burn me.. hurt my body? Will it be painful?
As mentioned before the wavelength of hair removal laser is such that it targets only the melanin in the hair and does not affect the skin in any way. As additional protection the probe itself is cooled to sub zero temperatures and a cooling gel is used on the skin where the probe is brought in contact. This ensures that only a mild pricking sensation is felt on the skin. All this compared to the painful waxing that some of you would have experienced…I am sure this is the clear winner.
Here it is important for me to point out that the procedure should be done under the supervision and care of a qualified dermatologist who would recommend settings to the laser machine and monitor progress through multiple sessions.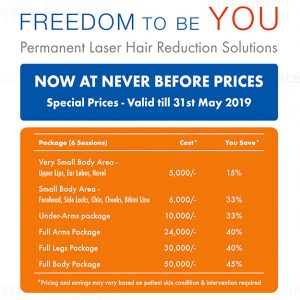 The process is time consuming and expensive….
This is absolutely far from truth. Women on an average get rid of body hair on a weekly to fortnightly basis. If you add up either the hours or the money spent on this, it would be far greater than what it would take for permanent laser hair removal. Besides this procedure is a zero down time procedure… meaning you could even choose to do this during a lunch break at work. (be it a bit longer break)
However, it must be said here that for effects of laser to be fully evident it takes from 6 to 8 sessions of treatment as laser acts on certain phases of hair growth and to capture all hair on the treated area in the correct phase it is important that multiple sessions are done.
Above is an idea of prices that my clinic is currently offering. Hope this will help you in budgeting a treatment.
It's important to note that not all patients need full body laser hair removal. It depends on the hair growth of an individual and the desired results.
Most laser hair removal clinics will offer packages or individual session based treatments from the smallest areas like upper lips, navel, bikini line, forehead, side locks, cheeks, ear lobes, under arms to full arms, full legs, torso etc.
You can always discuss with the doctor on what areas he or she believes the treatment will be effective and hence also optimize the cost of treatment.
I am afraid this will have side effects…
Side effects that people claim (wrongly so) are skin becoming darker, skin becoming lighter, pores becoming more evident…And all of it is just plain and simple rubbish. The only thing that you can have after a long session of laser is a bit of redness of skin which goes away within a couple of hours.
I hope the above tips have helped you get some insight into the process and would have helped get rid of some of your fears. You can always reach me with any more queries on the subject @ help@inurskn.in. Our clinic located at Powai, Mumbai is a preferred destination for laser hair reduction as we provide affordable yet highly reliable treatments..
I plan on writing some more on the topic of laser hair reduction especially the difference between various lasers available in the market and what to look for… But that's for another time. Till then I hope you enjoyed reading this article and in case you do find that either me or INURSKN.. my clinic.. has added to your quest for health and beauty do leave a positive review on google here : https://goo.gl/zHfACo
Faqs
Disclaimer: The objective of these blog posts is to educate the reader and help them take precautions. These articles are not meant to be used by patients for self-diagnosis or for avoiding proper medical treatment. It is always recommended to take advice form a medical practitioner for absolutely any and all medical conditions and also before engaging in any treatment. The content in the article above is based on personal observations and on knowledge from public domain. In case you would like to report any incorrect content or any copyright violation the same can be done via email @ help@inurskn.in