Achieving Smoother & Younger Skin Naturally – Understanding Skin Resurfacing with PRP
A lot of my patients approach me with the goal of achieving and maintaining smooth & young skin with natural methods. Also a lot of patients who have suffered from previous skin trauma on account of acne or chickenpox or some other ailment approach me to help them reduce the scars left behind by these conditions. For both of these concerns and more, there exists a scientifically proven, very reliable, and absolutely natural method of skin rejuvenation called PRP facial.
The human body is blessed with an almost unbelievable innate ability to heal itself. It is exactly this ability that we exploit when we carry out skin resurfacing with the additional help of PRP. PRP treatment uses platelet-rich plasma, which is taken from your own blood in order to produce results. Dermatologists use different names for this procedure like Vampire Facial, Blood Facial, Sanguine Facial, and so on, but don't let that scare you. Beyond the scary name lies a natural proven mechanism which is extremely effective.
The basic procedure involves two major steps:
Skin Resurfacing: To create minor punctures in the surface of the skin by a process called micro-needling.
PRP Treatment: To diffuse Platelet Rich Plasma into the treated area.
It sounds scary, how safe is it?
In spite of the dramatic names for it like vampire facial, this is one of the safest and most effective treatments that exist and has a long proven track record. The fact that we bank on natural skin healing with the aid of PRP only adds to the safety of the process as there is practically no known adverse reaction to the use of PRP.
The duration of the procedure is also typically under 30 minutes and there is practically no discomfort during the procedure.
So what is skin resurfacing?
Skin resurfacing is the process in which we carry out very controlled injury to the surface of the skin with the help of a microneedling device. This leads to a process called neovascularisation, in which there is a substantial increase of blood supply to the treated area along with activation of collagen formation. (Collagen is the substance under your skin which is primarily responsible for increasing the tightness and elasticity of skin). The formation of new skin cells with the above process leads to a more supple and smoother skin in the treated area.
How does this exactly work towards Scar Reduction?
Scars are nothing but indentations in the skin that are left behind by previous trauma to the skin which may have been because of conditions like acne, chickenpox, etc. The controlled injury and the subsequent collagen generation helps raise the skin in these indentations leading to smoother skin.
PRP promotes the growth of newer, healthier skin from the inside out, so you replace old cells with new ones.
What exactly is PRP and why is it useful in skin smoothening?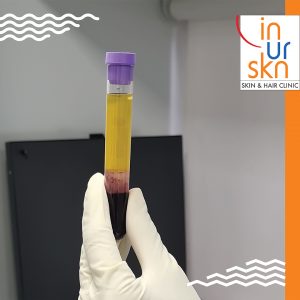 PRP stands for platelet rich plasma. Platelets are the component of blood which helps in healing of wound and injuries. Platelets consist of growth factors – which are nothing but certain proteins in your body that help stimulate cell growth. Platelet rich plasma is a solution that is made from your own blood but which has a very high density of growth factor proteins.
Hence when we diffuse PRP into the area treated by microneedling it leads to a very quick and healthy generation of new skin cells, leading to a skin which is vastly smoother and softer.
What are the Typical Results that can be expected of PRP Facials?
Like in any other dermatological procedure the results may vary from patient to patient however many of our patients do notice a generalized tightening and an overall healthier feel of the skin (softer and supple skin) within a few days.
The results of PRP facials are additive in nature, especially if you are undergoing PRP facial for reducing acne scarring, with each subsequent session you will find that the skin becomes smoother and the scars become milder. Your dermatologist can guide you regarding the schedule based on your skin's requirements.
Who should opt for a Sanguine Facial or a Vampire Facial?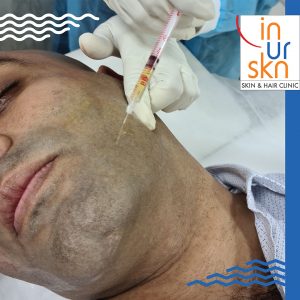 A Sanguine Facial or more dramatically a vampire facial or blood facial can help in the reduction of scars to a great degree. Also at the same time, the skin that is generated post-treatment is very supple and smooth and hence it is also used as a skin rejuvenation technique. Below is the list of conditions for which a blood facial can be used to deliver good results:
Acne scar reduction
Surgical scar reduction
Reduction of scars because of previous conditions like chickenpox
Wrinkles and fine line reduction
Improvement of dull, lifeless skin
Reduction in hyperpigmentation
Improving sun-damaged skin
Reduction of large pores
Creating an even skin tone
Bottom-line
If you are looking for a safe and effective way to get skin that looks younger or are looking for a treatment that helps you wipe away scars and blemishes from your face, you should contact a Dermatologist near you and get more details regarding PRP treatment. While we have covered most of the information about the treatment in this blog, an expert would be able to guide you with facts related to the treatment and its suitability for your skin.
About INURSKN:
Built on more than a decade of experience of Dr. Sejal Saheta, we are an honest and affordable skin and hair care clinic in Mumbai. Our goal is to make each patient comfortable and happy with their appearance with the least amount of intervention.
Our qualified and trained doctors, equipped with the latest technology, conduct and supervise all procedures in strict adherence to protocols developed by Dr. Sejal.
We are happy to be a part of your journey to reach your health goals. If you think we have been able to help you, please do review us:
On Practo: http://prac.to/vkpj
On Google: https://goo.gl/zHfACo
Disclaimer:
This article is one in a series of articles on skin conditions and procedures by Dr. Sejal Saheta – MD, DNB -Dermatology and Venereology. The objective of this series is to educate the reader and help them take precautions against various skin conditions they come across on an everyday basis. These articles are not meant to be used by patients for self-diagnosis or for avoiding proper medical treatment. The images used in the above blog are only for visual representation purposes. Actual procedure and results may vary from patient to patient.