A Dermatologist's Skin Care Routine for an active life. 
InUrSkn has been like a baby to me and has been taking a similar amount of time and effort. Hence, my skin care routine is a simple routine that I believe any person with an active life can follow without breaking a sweat or the bank.
The basics of everyday skincare: 
The Morning Time Cleansing Routine 
My morning starts with a mild face wash which contains mild acidic formulations which help reduce the oiliness on my skin giving a nice glow and a sense of freshness.
However, if you have very dry skin I would recommend a cleanser that does not have an acidic formulation and also as little alcohol as possible. You may even choose a cleanser with hydrating ingredients. But make cleansing the first skin care step of your day.
An important part of the skin care routine is the products you bathe with. During winters I recommend that one must use oilatum soaps (moisturizing soaps) and one should use lukewarm water during the shower. Remember that conventional foaming soaps and hot water both tend to strip the skin of its natural oils and make it very dry.
The Morning Full Body Hydration
When it comes to winters, the single most important thing to do is to ensure that your skin remains moisturized all the time.
Hence, the first thing to do after taking a shower is to immediately moisturize your body with a light moisturizing lotion that spreads well, does not block the pores of your skin and is also retained for an adequate number of hours.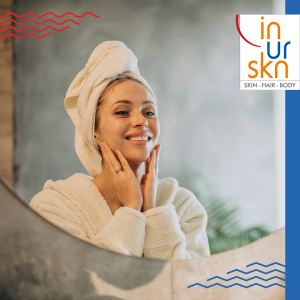 Time to Repair and Restore
Now with your skin nice and clean it's time to use targeted serums to help you with conditions that may be affecting your skin.
For Aged Skin, consider using retinoids based serums or creams. Retinoids are derivatives of vitamin A and are the most effective ingredients when it comes to fighting signs of aging like fine lines and wrinkles. However, retinoids (retinol is a type of retinoid) are very tricky to use as they tend to dry out your skin. During winters I would recommend going easy on these serums or using creams with lower retinoid percentage as these tend to also dry up your skin. No matter what, always wash your face after a maximum of one hour after using a retinoid serum or cream.
For Pigmentation issues like marks, spots and patchiness, Vitamin C based serums are like elixirs. These tend to reduce the oxidative stress on your skin and also tend to help regulate melanin formation. These can be left on during the night and generally do not cause dryness. There are also serums with other active ingredients targeting pigmentation like glutathione, niacinamide etc., but it is best to speak to your dermatologist before starting any of these serums.
Your under eye area may need special attention as it is one of the most affected areas in terms of pigmentation, water retention, loss of collagen etc. There are restorative serums that one can and should try, but again only after speaking to your dermatologist.
Moisturize Your Face and Sun Protect Your Body
And after you are done with using restorative serums on your face you should apply a moisturizing cream on your face which is non-comedogenic in nature and does not block your pores or cause acne breakouts.
Pay special attention to your neck, hands and feet. If your hands and feet dry up more, then you may want to use a thicker moisturizing cream.
Lastly, before you apply make-up, apply a generous layer of sunscreen on your face and on all the exposed parts of the body. Use a sunscreen which is of a reputed brand and adequately tested. Ensure a minimum of SPF30 protection (for most Indian skin tones) and also a broad spectrum rating of PA+++. There are quite a few sunscreens available with moisturizing properties too which you may want to consider in case you have very dry skin.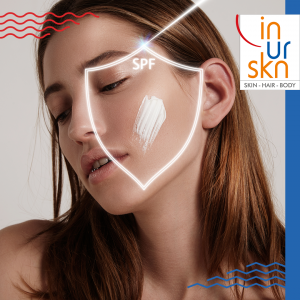 Through the Day
During winters through the day one must ensure the following:
Moisturize whenever you skin starts feeling dry
Reapply sunscreen when you head out after a few hours of initial application
Night Time = No Make-up, Clean Skin Time
An average human being spends about 40% of his entire life sleeping or trying to go to sleep. This time spent in bed is probably the single most important factor when it comes to the recuperation of skin, body and mind.
As we sleep our skin is able to heal itself from the day's damage by increase in blood flow, increased collagen synthesis, cellular regeneration etc. Hence, one must pay extra attention to their night time skin routine so as to boost the repair and restore function of the skin.
When it comes to winter night time routine, there are three basic steps to remember:
Cleanse – Restore – Moisturize
The first thing to do when you are calling it a day, is to remove your makeup. Makeup tends to clog pores leading to bacterial growth and also can react with the skin if left overnight. Make sure that the skin cleanser you use has no alcohol or acid content. These ingredients tend to dry up your skin.
Next head for a shower to ensure that you wash away the dirt, grime, sweat and pollutants from your skin. This ensures that your pores are open, your skin is able to breathe and you do not get any reactions or infections.  On your face you can choose to use a mild non-foaming face wash or a mild cleanser. In both cases do look for skin hydrating ingredients in them. (more about hydrating ingredients shortly).
Follow the same steps for restoration and moisturizing as in the morning.
A bit more about moisturizers
Given the importance of moisturizing your skin during winter, I believe one must always know the ingredients present in the moisturizer and how they address specific concerns.
Ingredients like Hyaluronic Acid and Lecithin hold on to moisture and help it penetrate deeper into the skin.
While ingredients like Ceramides and Lanolin improve the barrier function of the skin and thus reduce trans-epidermal water loss.
Glycerine, PCA and other such ingredients act as humectants. That is, they help attract moisture to the upper layer of skin from the deeper layers and also the atmosphere.
Lastly there are ingredients like Squalene which act as emollients and help soothe the skin.
I would like to leave you with the thought that the 'skin needs' of every person is different and it's best not to compare skin care routines. The best way to establish a skin care routine for winter or otherwise, is with the help of your dermatologist who can recommend great skin care products that are best suited to your skin, and not a one off choice/option.
How can Dr. Sejal and InUrSkn help?
There's enough information on the internet to stay fit and healthy. A lot of it is misinformation. Digital age sure has boons but it surely fails to address customized skincare or skin care solutions that are long lasting. The home remedies, friendly advice and the internet has gone a little too far. Dr. Sejal ensures every single patient is aware enough to filter between the misleading information and the factual ones backed by science and research.
Skincare must change with seasons, age and lifestyle changes. Some of our most successful treatments are Skin Rejuvenation, Facials and Hydration treatments. They've seen lasting effects for all our patients.
Dr. Sejal is always available at her state of the art clinic InUrSkn which specializes in the domains of dermatology, cosmetology, venereology, intimate cosmetology, trichology and body aesthetics.
Disclaimer –
The objective of this article is to educate the reader and help them make wiser choices under the guidance of a trained dermatologist. It is not meant to be used by patients for self-diagnosis or for avoiding proper medical treatment. The images used in the above blog are only for visual representation purposes. Actual procedures and results may vary from patient to patient.
About Dr. Sejal Saheta and InUrSkn:
Built on more than a decade of experience of Dr. Sejal Saheta, we are an honest and affordable skin and hair care clinic in Powai, Mumbai. Our goal is to make each patient comfortable and happy with their appearance with the least amount of intervention.
Dr. Sejal Saheta has dual degrees of MD and DNB in dermatology and venereology and has worked alongside some of the senior-most doctors at the largest hospitals in Mumbai.
Located in Powai, InUrSkn is the largest skin and hair clinic in the central suburbs of Mumbai and offers the latest technology in the safety of world-class infrastructure.
We are happy to be a part of your journey to reach your health goals. If you think we have been able to help you, please do review us:
On Practo: http://prac.to/vkpj
On Google: https://goo.gl/zHfACo