Advanced Skin Rejuvenation Techniques – Part 1
The Safe Science of Chemical Peels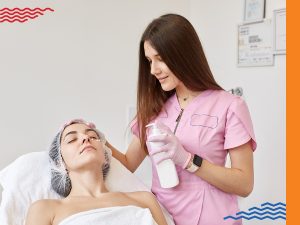 Who wouldn't want to transform themselves into someone with glowing, radiant, blemish-free skin that would make them look many years younger?
The truth is, every one of us would love such a makeover. And most of us believe that modern cosmetology could actually make it a reality.
And yet, we hesitate. Should we actually subject our skin to something that, quite frankly, sounds just a little bit scary? And will we actually get the miraculous results we dream of?
The first step in making an informed decision is to understand exactly what a medical or chemical peel is and how does it help to rejuvenate the skin.
What is skin rejuvenation?
Skin rejuvenation has a very wide definition, which includes a long list of procedures to help you achieve healthier, better-looking skin through external intervention.
Healthy skin means different things to different people, but generally speaking, skin rejuvenation techniques work towards helping with the following:
Reduction in pigmentation (includes spots, marks, uneven skin tone and more) – You can read my detailed blog post on skin pigmentation here
Reduction in fine lines and wrinkles
Reduction in scars and pits
Improvement of skin texture by making it smoother
Improvement in the elasticity of the skin
Reduction of active acne and acne scars
Reduction in size of pores
That said, in this article, I would like to focus solely on Medical or Chemical Peels.
What are chemical peels?
The fundamental principle of skin peeling has been employed since ancient times. It is said that Cleopatra used to bathe in sour milk, which made her skin very beautiful. Of course, we now know that it was the lactic acid in the milk which helped the process of beautification.
The idea behind skin peeling is to carry out a controlled injury to the skin such that when the skin heals, it becomes a lot more supple and clear. This process of controlled injury to the skin by use of medical solutions is called skin peeling and the solutions themselves are called Chemical or Medical Peels.
Sounds scary. Is this safe?
Modern dermatology has made the process of skin peeling a lot more efficient and safer. The solutions used now have been rigorously tested by the companies that produce them, for both efficacy and safety.
Although the procedure is generally very safe, I recommend that peels be done by trained aestheticians under the watchful eye of a qualified dermatologist.
Also, a common myth with peels is that once you stop using them, the treated area turns darker. This is absolutely untrue and any darkening observed is generally because of prolonged sun exposure. (Do read my blog post on skin pigmentation here.)
Rest assured, skin peeling is among the most widely used procedures by dermatologists for the purpose of skin rejuvenation.
What can peels help me with?
Peels can help with all of the aforementioned 7 skin concerns from texture to elasticity and pigmentation, and more.
Although peels are more commonly used on face, neck and back, they can be used on practically any part of the body.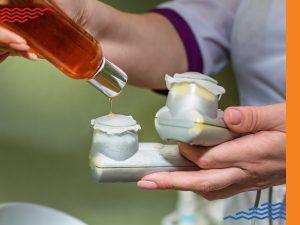 What are the types of peels available? How do I know which one is for me?
The peels are largely classified by how deep they can penetrate the layers of the skin. The loose classification is:
Superficial Peels
Medium Deep Peels
Deep Peels
Obviously, the deeper a peel penetrates, the greater the effect. However, please note that not all peels are suitable for all patients and all conditions. Hence, it is recommended that any form of skin peeling is done only under the close supervision of an experienced dermatologist.
But, for quick reference, here are some of the common and not-so-common peels that are used, and the advantages one can expect from each of them:
Alpha Hydroxy Peels – These are the mildest form of peels. These work towards making the skin tone even and generating a 'glow'.
Beta Hydroxy Peels – These are largely used for acne.
Retinoid Peels – These are used for clearing up the skin and achieving an even skin tone.
Combination Peels – These include medium deep peels, and their usage is best determined by a dermatologist on a case to case basis.
TCA Peels – For deep pigmentation patches, a dermatologist may chosse these types of peels. These are also medium deep peels and should be handled carefully.
Phenolic Peels – These are very deep peels and not commonly used.
Warning: Never use any form of peels by yourself, or without the supervision of a trained dermatologist.
What is the procedure like? What care should I be taking?
The procedure itself is quite simple and relaxing. The aesthetician will carry out a deep cleaning of the treatment area and then apply the peel solution, which will be left on for the specified time (generally a few minutes, as directed by the dermatologist), and then clean the same. The patient feels a mild stinging sensation when the peel is applied. The procedure is generally ended with a cleansing and hydration process.
Over the next few days, based on the peel used, there may be a visible residual redness of the skin, or even actual peeling of the skin in some cases. But this is to be expected, as it is a part of the rejuvenation process.
Here's a list of key DOs and DON'Ts to follow before and after the procedure:
All creams should be stopped for a few days before and after the procedure.
Pre and post-procedure, there should be no prolonged sun exposure.
Avoid any beauty procedures for a few days before and after the procedure.
Scrubbing and rubbing of treated area should be avoided.
Avoid using makeup and other beauty products on the treated area for up to 2 days after the procedure.
Waxing and threading should be avoided for up to a week after the procedure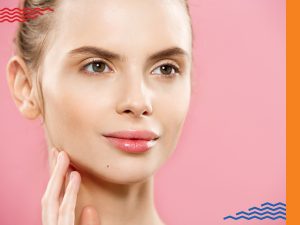 Effects & Frequency
The best results of a peel are seen from the next day (for milder peels) to the next week (for stronger peels). The end result is improvement where skin feels fresh and more supple with a reduction in the condition being treated, be it pigmentation, scars, acne or any of the others mentioned.
However, like most beauty procedures, peels are an additive process. If applied regularly, then with every session there is an incremental improvement. And yes, before too long, you will see a visible transformation.
Based on the expected results and the condition being treated, I recommend a frequency varying from twice a month to once in three months.
So, are you ready now?
The truth is, miracles belong in fairy tales. But better skin doesn't have to.
Skin rejuvenation through expertly administered chemical peels is a very achievable goal. And if you choose where to go for your treatment with care, it is perfectly safe, as well.
So why put it off any longer? Book an appointment today.
And enjoy better-looking skin sooner than you think is possible
Dr Sejal practises at InUrSkn, a speciality skin and hair clinic that offers advanced, Doctor-supervised dermatology and cosmetology services in a way designed to put you at total ease. Dr Sejal is known for her personal, honest approach, and her ability to help you understand exactly what you need, and the results you can realistically expect.
About InUrSkn:
Built on more than a decade of experience of Dr. Sejal Saheta, we are an honest and affordable, skin and hair care clinic that offers a variety of treatments like skin peeling in Powai, Mumbai. Our goal is to make each patient comfortable and happy with their appearance with the least amount of intervention. Our qualified and trained doctors, equipped with the latest technology, conduct and supervise all procedures in strict adherence to protocols developed by Dr. Saheta. We are happy to be a part of your journey to reach your skin and hair goals. If you think we have been able to help you, please do review us:
On Practo: http://prac.to/vkpj
On Google: https://goo.gl/zHfACo
Disclaimer: 
This article is one in a series of articles on skin conditions by Dr. Sejal Saheta – MD, DNB – Dermatology and Venereology. The objective of this series is to educate the reader and help them take precautions against various skin conditions they come across on an everyday basis. These articles are not meant to be used by patients for self-diagnosis or for avoiding proper medical treatment. The images used in the above blogs are just for the visual representation of the treatment results may vary from patient to patient.