Toners, an elixir or hogwash
What is a toner and do you really need it?
The skincare routine of every single celebrity (major or minor) will now figure a minimum of a CTM routine. For the uninitiated, that stands for cleanse-tone-moisturize. The T in the CTM is definitely a thing of this decade and has been a very debatable product in both the beauty and dermatology circles. 
And if you ever do get curious and ask the CTM proponents as to, what exactly is a toner? Or how does the toner really help them? You will find them either stumped or get a variety of ambiguous answers.
And this is exactly why you need to have this conversation with your dermatologist.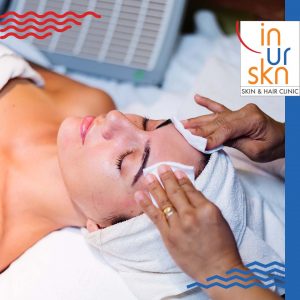 A bit of a checkered history
Toners gained popularity (and eventually notoriety) as a liquid you used after you have cleansed your skin with a largely soap-based cleansing liquid like a face wash. It was often that these soaps could not get rid of all the makeup that was used and hence toners which were largely formulated using alcohol and acetone were used for cleaning up the remnants.
(I also suspect that it is the acetone component that gave rise to the name toner…but that's just a guess)
These toners would leave your skin stripped of not just the makeup but also the essential oils that your skin so needed and often cause adverse reactions because of the absorption of the harsh components in them.
So how did toning become such a big thing?
The thing is that modern toners are not primarily aimed at cleansing anymore.
In fact, one can argue that the cleansers now available in the market (be it alkaline, foaming ones or non-foaming ones) do a great job at cleaning up the day's dust and grime and also the makeup. Making the case of the use of a toner even more curious!
The modern (last 5 to 10 years) toner usage can be mainly attributed to the FMCG companies and Korean beauty regimens.
And this is where a toner found its new definition and purpose.
So what exactly is a toner?
A toner is now defined as a liquid with a water-like consistency that acts as:
As second cleanse for your skin

As a booster to help improve uptake of the serums that may be applied next

As a 'something' extra for your skin
As a dermatologist, my strong opinion is that you do not need a second cleanse neither do you need a booster to enhance uptake of serums, but it is the little extra where the use of a toner lies.
How do I choose a toner that's right for me?
I qualify the toners available in the market as four types:
Soothing

Hydrating

Nourishing

Exfoliating
The components used in a toner determine what the toners are really good for and like all things in life one man's food can be another man's poison. So be careful when it comes to using the latest trending toner that your friend may swear by. Your friend's skin needs can be absolutely opposite of yours.
Here's a quick take on how to choose your toner:
If your skin is very sensitive I recommend that after a cleanser or face wash use a soothing toner which may reduce inflammation or irritation if any. Such toners are known to carry ingredients like aloe, rose water, glycerin, etc. which are what I call feel good ingredients. Dabbing this on will soothe your skin.

If you suffer from dry skin a hydrating toner

that

has ingredients like hyaluronic acid, vitamin E, etc. These serve the primary purpose of giving an extra shot of hydration to your skin after cleansing.

If your skin is oily then I would recommend using a toner with exfoliating agents like mild alpha hydroxy acids and beta hydroxy acids. But be careful to absolutely not use this every day. Limit use of such a toner to 2 to 3 times a week at maximum. Examples of such AHAs and BHAs are glycolic acid, lactic acid, etc.

However, if your skin is more towards normal, consider using toners with properties that aid your specific need. Examples would be toners with vitamin c or retinoids, these active ingredients have great properties in terms of helping

you to keep your skin firm

and also reduce fine lines and wrinkles.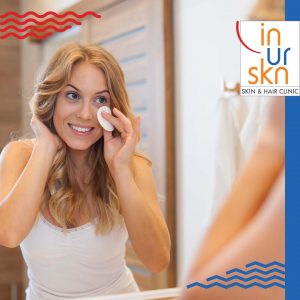 The Bottom Line
To my patients, I recommend a toner more of like an optional product. In my opinion, a lot of what toners do can be done better by using just the right cleanser, moisturizer, or targeted serum. And if you must use a toner do try them out for short time frames and see if they are adding value to your skincare routine.
Last and most importantly remember to choose a toner that works for you and not for the pockets of the companies that manufacture them.
Disclaimer:
The objective of this article is to educate the reader and help them make wiser choices under the guidance of a trained dermatologist. It is not meant to be used by patients for self-diagnosis or for avoiding proper medical treatment. The images used in the above blog are only for visual representation purposes. Actual procedures and results may vary from patient to patient.
About Dr. Sejal Saheta and InUrSkn:
Built on more than a decade of experience of Dr. Sejal Saheta, we are an honest and affordable skin and hair care clinic in Powai, Mumbai. Our goal is to make each patient comfortable and happy with their appearance with the least amount of intervention.
Dr. Sejal Saheta has dual degrees of MD and DNB in dermatology and venereology and has worked alongside some of the senior-most doctors at the largest hospitals in Mumbai.
Located in Powai, InUrSkn is the largest skin and hair clinic in the central suburbs of Mumbai and offers the latest technology in the safety of world-class infrastructure. 
We are happy to be a part of your journey to reach your health goals. If you think we have been able to help you, please do review us:
On Practo: http://prac.to/vkpj
On Google: https://goo.gl/zHfACo
How can Dr. Sejal and InUrSkn help?
No matter what your skin and hair needs, Dr Sejal Saheta ensures personal attention to each patient and creates customized and scientifically-backed treatment plans for each patient. Through her years of experience and use of technology at her clinic (InUrSkn – Skin and Hair Clinic) located in Powai, Mumbai, she has been able to consistently deliver great results in the field of dermatology and trichology to thousands of patients. All of the above is done with the best-in-class machines within the comfort and safety of world-class infrastructure.