Truth about Beauty Salon Facials
A question of science & sensibility v/s long standing myths
I am certain that every time you have chosen to get your hair trimmed or gone for a session of waxing (if you have not already chosen laser hair removal) the beautician at the salon would have observed how you look tired or how you seem to be developing wrinkles and eventually how a great facial with some obscure ingredients can do wonders for your face.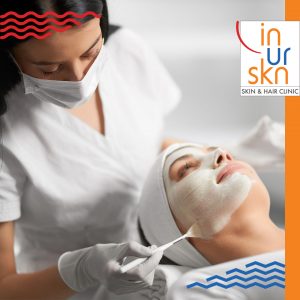 I have been in these shoes way too many times (every time I go for a hair trim….) and have been pitched procedures ranging from hmmm… to arghhh…with promises that they will change the way I look… well almost.
This prompted me to speak to my friends and family about their salon experiences and asked them if they do opt for such facials and if they think these facials work for them?
Here are my attempt at de-mystifying these salon or parlour facials.
Belief #1
Facials remove the toxins from my skin
While it is true that your skin does need cleansing with a gentle cleanser every day. There are no topical applications or massage techniques that can 'detox' your skin. The toxins in your body are cleansed largely through your lymphatic system and not through your skin. Living a healthier life with a better diet, exercise, and avoiding habits like smoking and drinking works far better at 'detoxification'. And by the way, yes, this form of a true 'detox' that works at a holistic level can help you achieve healthier skin also.
Belief # 2
The bumps on my skin after a facial are a sign that toxins are being released.
This is by far one of the worst myths, as it is harmful to the person. In fact, these bumps are nothing but acne that is seen because of the creams and lotions used during the facial which may have the tendency to block the pores in your skin leading to bacterial growth and eventual acne eruption.
Belief #3
The massage done during facials in an upward direction tightens the skin and decreases lines and wrinkles.
Unfortunately, this too is untrue. The primary reason behind laxity in the skin and the associated wrinkles and lines is the fact that the skin tends to lose the collagen and elastin in it because of aging and exposure to environmental factors and by no means a physical external force by massage can increase these levels and help in tightening of the skin. Besides the fact that we all enjoy the feel of a good facial massage, there is no value that it can bring in terms of tightening of the skin.
Belief #4
I have undergone a special facial that will help reduce the pigmentation on my skin and reduce my dark circles.
This has a bit of 'superficial' truth to it. Often facials are done with lotions or creams with active ingredients that tend to bleach the skin. This does show as mild whitening or lightening of the skin. But this lightening is extremely superficial and as the chemicals used in these creams are unknown, they can often cause reactions which are more difficult to handle. It is essential to understand that pigmentation is caused by melanin which is not in the superficial layers of the skin. As for dark circles, these could be because of plenty of reasons ranging from being constitutional to be caused because of hollowing of eye sockets with age and facials can practically do nothing for this condition.
Belief # 5
My facial has all-natural ingredients and hence is safer than any chemicals that can be used to give me a glow.
Please understand that any facial can work (even mildly) only if it has active ingredients. The fact that something 'natural' and obscure does not make it safer or better. In fact, these products have not undergone any testing for either safety or efficacy. In today's time when people even question the efficacy and safety of vaccines that have been researched with billions of dollars invested in them, it would not hurt to pause and question the safety and efficacy of the facial cream and lotion that will be used on you and massaged into the pores of your skin.
I am sure that by this time all of you have had enough of myth-busting and must be asking what salon facials are really good for?
Let me do my honest best to answer this question with a bit of optimism:
Salon or Parlour facials make you feel good. The pampering and 'me' time is probably what most individual's value.

Salon and Parlour facials provide hydration to the skin, be it temporary and the effects of this hydration is seen as a more supple skin.

The clean-ups done as a part of the facial are effective to clear out blackhead and white heads but should be done carefully. I have come across way too many patients coming in with nasty marks left behind on the face because of harsh extraction

 Some facials do offer exfoliation of the upper superficial layer of the skin, and hence are partially effective and do give a good feel and texture to your skin.
So what can you do that is truly safe and effective?
The first thing to understand is that 'skin rejuvenation' is not a one size fits all technique. There are far better suited procedures that can be suggested by a good dermatologist and sometimes you may not even need those. Probably a lot of your expectations can be met with a good skin care routine.
So here are some thoughts to consider:
Visit a dermatologist and speak to them about your area of concern. They will probably help you establish a good skincare routine and establish what medications and topical applications may be suitable for you. You can read about a basic skincare routine that I recommend here
–links to basic skin care habits 
1. And if it is the so-called ever evasive 'glow' you are seeking or looking for 'skin rejuvenation' then let the dermatologist know your expectations and he or she will help you set and achieve realistic skin goals for you. Often dermatologists call the combination of these skin rejuvenation treatments as medical facials. These can include things like medical skin clean-ups, skin polishing, skin resurfacing, laser skin rejuvenation, medical peels, P-R-P facials, etc. You can read more about what we can do in this domain here (link to skin rejuvenation page)
2. If you are worried about signs of aging like drooping skin, wrinkles, fine lines, etc., there are many more effective treatments including but not limited to HIFU, injectable treatments, etc. You can read more about what we at Inurskn can do for you to address such concerns here (link to anti-aging page)
So next time your beautician asks you to consider a facial, do consider the above thoughts and make a well-informed choice.
Disclaimer:
The objective of this article is to educate the reader and help them make wiser choices under the guidance of a trained dermatologist. It is not meant to be used by patients for self-diagnosis or for avoiding proper medical treatment. The images used in the above blog are only for visual representation purposes. Actual procedure and results may vary from patient to patient.
About Dr. Sejal Saheta and InUrSkn:
Built on more than a decade of experience of Dr. Sejal Saheta, we are an honest and affordable skin and hair care clinic in Powai, Mumbai. Our goal is to make each patient comfortable and happy with their appearance with the least amount of intervention.
Dr. Sejal Saheta has dual degrees of MD and DNB in dermatology and venereology and has worked alongside some of the senior-most doctors at the largest hospitals in Mumbai.
Located in Powai, InUrSkn is the largest skin and hair clinic in central suburbs of Mumbai and offers the latest technology in the safety of world-class infrastructure. 
We are happy to be a part of your journey to reach your health goals. If you think we have been able to help you, please do review us:
On Practo: https://prac.to/vkpj
On Google: https://goo.gl/zHfACo
How can Dr. Sejal and InUrSkn help?
No matter what your skin and hair needs, Dr Sejal Saheta ensures personal attention to each patient and creates customised and scientifically-backed treatment plans for each patient. Through her years of experience and use of technology at her clinic (InUrSkn – Skin and Hair Clinic) located in Powai, Mumbai, she has been able to consistently deliver great results in the field of "dermatology, cosmetology, trichology and venereology" to thousands of patients. 
Also Inurskn offers a plethora of skin rejuvenation treatments like:
Medical Skin Clean-Ups

Medical Peels / Chemical Peels

Laser Skin Toning / Laser Skin Brightening / Laser Skin Lightening

Sanguine Facials / PRP Facials

Microdermabrasion / Skin Polishing

Skin Resurfacing through Microneedling

Iontophoresis / Ionization / Ion Therapy

Skin De-pigmentation Skin De-Tanning
All of the above is done with the best-in-class machines within the comfort and safety of a world class infrastructure.