Your guide to a blemish free skin post acne breakouts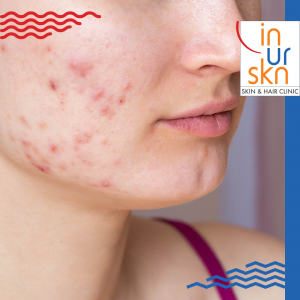 Acne is one of the most prevalent conditions in young adults across the globe and sometimes it can last far beyond those early years too. In fact, one can keep experiencing acne throughout their adulthood triggered by events that cause changes in the levels of hormones like irregular periods, menopause, etc. The most troubling aspect of acne though is the fact that after one experiences as breakout, the marks, spots, and scars can last really long. This article aims at helping you keep your skin free of marks and blemishes in spite of acne breakouts.
Know your spots from your scars
Acne can cause two major types of blemishes on your skin which put in simple words are called marks and scars. Acne marks or spots are called Post Inflammatory Hyperpigmentation or PIH. These are caused because of the fact that when your skin heals there is often an excess formation of melanin in your skin. This excess melanin leaves the affected spots on your skin much darker than the surrounding area.
Acne scars on the other hand are the changes in the texture or smoothness of your skin. When you skin tries to repair itself after a bout of acne, it uses a protein called collagen. This collagen deposition by your skin is not very even and hence causes a change in the surface of the skin which we call scarring.
Most spots caused by acne tend to fade away in about 3 to 9 months' time. But some spots and almost all scars need external intervention to heal properly.
A stitch in time saves nine.
It is important to understand that it is far easier to handle active acne than to handle the spots and scars left behind after an uncontrolled breakout. I recommend that all my patients follow the below protocol when they have active acne:
Ensure that you never pop a zit, as this is the fastest way to get a scar.
Make sure not to fidget with acne as it can tend to spread the bacteria to other parts of your face.
Make sure to keep your face free of excess oil or sebum by using a gentle facewash or medicated wipes. Excess sebum creates the perfect conditions for acne-causing bacteria to proliferate.
Make sure to use the topical medication prescribed by a dermatologist on your active acne.
Make sure to use a separate topical medication on the acne that have burst or are in the healing stage. (As prescribed by your dermatologist)
Use makeup sparingly and also look for makeup that is non-comedogenic.
If these steps are followed, it reduces the need to handle acne spots and scars substantially.
Things Not To Do for your Acne Spots and Scars
Because of the fact that acne is so widespread, there are also a whole lot of myths and bad advice surrounding acne care. Two of the things that I highly recommend patients to not do are:
Never ever use home remedies like vinegar, honey, cinnamon etc. on your acne or spots and scars. These things are of better use in cooking than on your skin. Best case scenario they will not help you, the worst case scenario they will cause a serious reaction on your skin.
Never use over the counter (OTC) creams on the advice of your friendly chemist or pharmacist or friend.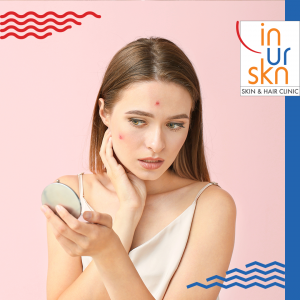 Things that can help with acne spots, marks, and scars
The first step to help with acne spots and marks is to establish a proper routine of topical and oral medications.
I recommend oral medications which are usually oral antibiotics that control bacterial proliferation. Oral vitamin A derivatives dries off the oil glands thereby reducing acne.
As for topical medications, these generally contain active ingredients like antibiotics, retinol, salicylic acid which help in reducing sebum formation.
Unfortunately, acne scars are almost next to impossible to treat with just topical medications and almost always require external intervention.
Advanced Treatments for PIH and Scars
For extensive levels of PIH and for scarring, I recommend that my patients undergo a combination of the below procedures also.
Chemical Peels: These are generally acidic solutions that can help with both spots and scars by acting as exfoliates that help in renewing the skin cells.
Laser Spot Reduction and Toning with ND Yag Lasers: This in my opinion is by far the most effective solution for treating PIH. The laser beam tends to target the hyper-pigmented area without affecting the surrounding area. It tends to even out the skin tone and has absolutely no downtime.
Skin Resurfacing by Microneedling: For patients with acne scarring this is the most effective means of improving the texture of their skin. The process involves carrying out micro-injuries to the skin using a micro-needling device and when the skin heals back after the procedure it is a lot smoother and even textured.
Skin Resurfacing by Fractional CO2 Laser: For deeper scars, I do recommend that patients undergo treatment with fractionated co2 laser. These lasers are a bit more invasive and should be done only by an expert dermatologist.
Platelet Rich Plasma (PRP): I find this to be the most effective mechanism now available for dealing with scars. It uses a concentrated plasma serum derived from your own blood which helps in rapid and more effective healing of scars.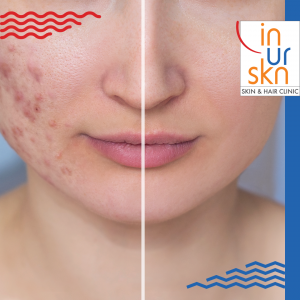 The most important piece of advice that I can leave you with is that in case your suffer from either active acne or PIH or scarring, it is best to visit a dermatologist you trust and discuss your expectations and treatment options as this will give you the most effective options suitable to your specific condition.
Disclaimer:
The objective of this article is to educate the reader and help them make wiser choices under the guidance of a trained dermatologist. It is not meant to be used by patients for self-diagnosis or for avoiding proper medical treatment. The images used in the above blog are only for visual representation purposes. Actual procedures and results may vary from patient to patient.
About Dr. Sejal Saheta and InUrSkn:
Built on more than a decade of experience of Dr. Sejal Saheta, we are an honest and affordable skin and hair care clinic in Powai, Mumbai. Our goal is to make each patient comfortable and happy with their appearance with the least amount of intervention.
Dr. Sejal Saheta has dual degrees of MD and DNB in dermatology and venereology and has worked alongside some of the senior-most doctors at the largest hospitals in Mumbai.
Located in Powai, InUrSkn is the largest skin and hair clinic in the central suburbs of Mumbai and offers the latest technology in the safety of world-class infrastructure.
We are happy to be a part of your journey to reach your health goals. If you think we have been able to help you, please do review us:
On Practo: http://prac.to/vkpj
On Google: https://goo.gl/zHfACo
How can Dr. Sejal and InUrSkn help?
No matter what your skin and hair needs, Dr Sejal Saheta ensures personal attention to each patient and creates customized and scientifically-backed treatment plans for each patient. Through her years of experience and use of technology at her clinic (InUrSkn – Skin and Hair Clinic) located in Powai, Mumbai, she has been able to consistently deliver great results in the field of dermatology and trichology to thousands of patients. All of the above is done with the best-in-class machines within the comfort and safety of world-class infrastructure.